Shantel Dj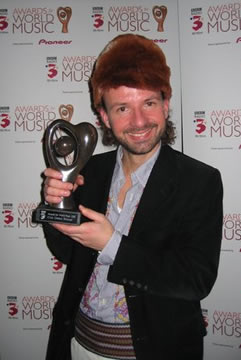 Loucura total sexta-feira na casa da musica com a bucovina club soundsystem – acho que foi isto que o sr. de barrete que no programa aparecia como shantel dj disse no seu ingls de leste.
musica a la gato preto gato branco com uma batida tremenda foi o programa que nos foi servido entremeado com umas conversas em inglês/romeno/servo-croata/yadayda e a distribuição do conteúdo de uma garrafa de vodka pelos presentes.
Uma pesquisa minima na net e encontro uma uma boa descrição
"Some of the tunes were so naturally funky Shantel didn't need to add anything. Others he remixed, adding electronic beats and layering the horns on top"
para além de ficar a saber que este sr. é alemão com origens balcânicas e que tem a editora essay recordings que entre outras coisas edita o fantástico siñor coconut
onde será que o gajo actua na próxima sexta?
por Vitor Silva